By Jay Shareef and Chris Rhoads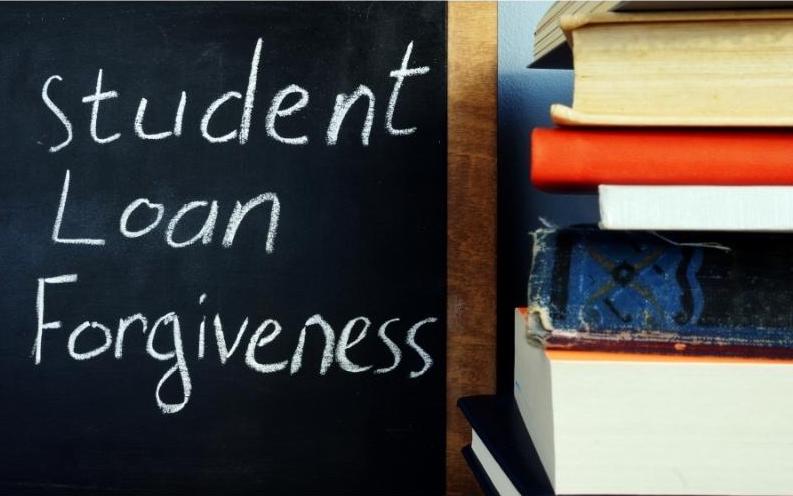 The recently announced student loan forgiveness plan aims to ease some of the financial burden student loan payments can cause for middle-class workers. The plan would provide up to $20,000 of debt forgiveness for students who receive a Pell Grant, and $10,000 of forgiveness for non-Pell Grant recipients.[1] Pell Grants are offered to low-income and middle-income students based on financial need, and the amount awarded to students does not need to be paid back.
In addition, the plan is supposed to improve upon the current Public Service Loan Forgiveness by helping borrowers who have worked at a nonprofit, in the military, or in federal, state, tribal, or local government, to receive additional credits toward loan forgiveness.[2]
Requirements for Forgiveness
Borrowers are eligible for this relief if their individual income is less than $125,000 or $250,000 for households.
Private student loans are not eligible, only federal student loans. Of the $1.75 trillion of debt Americans have in student loans, roughly $1.62 trillion is from federal student loans while the remaining $131 billion comes from private loans.[3]
There is no age requirement, nor does the plan stipulate that the borrower must be the one who used the loan for college. That means that parents, or grandparents, who took out student loans for family members would be eligible for forgiveness, so long as they met the income requirements.
The plan also stipulates that the reprieve is only for those who took out loans prior to June 30th, 2022. Thus, no loans taken after that date would be eligible for forgiveness under this plan. It is currently unclear if there will be future loan forgiveness plans.
The Department of Education said that the application to apply for forgiveness will end on Dec. 31, 2023. To be notified of when the application opens to apply, you can sign up at the Department of Education subscription page.
Additional Student Loan Changes
The plan also made changes to the repayment of federal student loans, including:
Lowered the percentage borrowers pay of their monthly discretionary income from 10% to 5% (only for undergraduate loans).
Forgive loan balances after 10 years of payments if the borrower has a balance of $12,000 or less.
Paying for a borrower's unpaid monthly interest. Some borrowers have paid their monthly payments but have seen their balances grow because of the interest. Now, as long as they make their payment, their balance will not grow.
Planning for Future College Expenses
Despite the $10,000 to $20,000 debt forgiveness coming to certain borrowers, it is still advisable to plan for other ways to pay for the cost of a college education. In 2021-2022, the average cost of an in-state public college was $10,388, while an out-of-state public college was 22,698. The average private college cost was $38,185.[4] The main takeaway is that even if there is more forgiveness, that alone won't be able to cover the full cost of 4 years in college.
Two of the most popular ways to save for college are a 529 plan and the Coverdell Education Savings Account (ESA); each offers tax benefits and can be suitable for savers.
A 529 plan allows for borrowers to invest contributions into an account, invest it with tax-deferred growth, and withdraw the money tax-free as long as the money is used for a qualified education expense. Additionally, some states offer a tax deduction on contributions made to 529 plans.
The ESA contributions are not tax-deductible, but like a 529, your contributions grow tax-deferred, and distributions used for qualified education expenses are tax-free.
The ESA has a $2,000/year contribution limit, while there is no contribution limit for the 529 (although you do need to ensure you don't exceed any gift tax limits, and if you do, you'll need to report it on your tax return).
If You Qualify for Forgiveness
If you qualify and your new student loan balance will be fully paid off, this is a great time to take the next step in your financial life. Instead of immediately spending the money previously contributed to student loans, consider using that money to invest and build wealth. Depending on your goals and circumstances, you can contribute to your workplace retirement plan, an IRA, or a joint investment account.
If you qualify but the amount forgiven will lower but not eliminate your loans, there is still plenty of good news. Not only is your loan balance lower, but the amount of interest you pay each payment will decline, which will increase how quickly you can pay off your principal.
Also, as a result of your lower loan balance, your net worth will increase, which is a key indicator of your financial health.[5]
Your Forgiven Debt May Be Taxed by Your State
For those who do have student loan debt forgiven, you will not owe any taxes on the federal level on the amount forgiven. For instance, if you receive $10,000 in debt forgiveness, you will not have to include the forgiven amount in your taxable income on your federal tax return. Additionally, most states follow that rule when it comes to your state tax returns; thus, there won't be an additional tax owed because you qualified for forgiveness.
However, that's not the case in every state. Currently there are seven states where your forgiven amount would be included in your taxable income on the state level: North Carolina, Indiana, Mississippi, Arkansas, Minnesota, Wisconsin, and California.[6] While this reflects the law as it stands today, each of these states could change how forgiveness is taxed as they gather more information on the plan and make adjustments to their states law. If you have questions about the tax implications of student loan forgiveness in your state, please contact a financial professional to get the most up-to-date information.
We Can Help
While you may not think student loan forgiveness and retirement planning are related, at WealthFlow Financial we want to show you how you can parlay your student loan savings into retirement or investment strategies and growth. Using customized strategies that are created through a true partnership, we empower our clients to weather the inevitable challenges that our complex financial world presents. If you don't already have an advisor helping you do that, reach out to us at (301) 798-5250 or schedule a phone call now.
About Jay
Jay Shareef is vice president, financial advisor, federal benefits consultant, and co-founder at WealthFlow Financial. As a U.S. Army veteran, Jay is passionate about helping federal employees create a bulletproof plan for retirement and navigate the often confusing and complicated federal benefits landscape. He spends his days educating and providing clients with unbiased insurance benefits and retirement strategies to help his clients create guaranteed income for life. As a problem-solver and trustworthy resource, Jay always puts his clients and their needs first so they can find financial peace of mind. To learn more about Jay, connect with him on LinkedIn.
About Chris
Chris Rhoads is a co-founder and vice president of WealthFlow Financial. As a registered investment advisor and independent financial professional, Chris is committed to helping his clients in retirement and he takes a holistic approach to financial planning that includes insurance and risk management, investments and wealth management, retirement income planning, and estate and tax planning. Chris has been married to his wife, Tia, since 2009 and they live in Frederick, MD, together with their two young daughters. In his free time, Chris enjoys traveling, watching sports, and being active in causes about which he cares passionately. To learn more about Chris, connect with him on LinkedIn.
---
[1] https://studentaid.gov/debt-relief-announcement/
[2]https://www.whitehouse.gov/briefing-room/statements-releases/2022/08/24/fact-sheet-president-biden-announces-student-loan-relief-for-borrowers-who-need-it-most/
[3] https://www.forbes.com/advisor/student-loans/average-student-loan-statistics/
[4]https://www.usnews.com/education/best-colleges/paying-for-college/articles/paying-for-college-infographic
[5]https://www.cnbc.com/select/what-is-net-worth/
[6]https://www.npr.org/2022/09/09/1121717824/biden-student-loans-debt-cancellation-taxpayer-impact